DESPERATELY SEEKING BANNER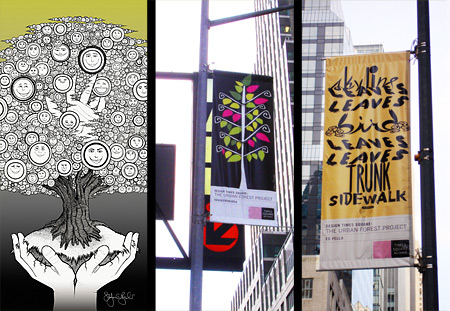 Good morning. One of the minor reasons for traveling to New York last month was to visit and document my Urban Forest banner. If you haven't read about the project, the good people at AIGA NY, World Studio, and at the Times Square Alliance invited 185 artists and designers to design tree metaphors to be posted as banners in and around Times Square. Very cool, right?
After running around all week I finally grabbed the provided banner map on my last day in town and set out to take pictures of my tree.
Being filed second in line as 344 Design (after 2×4 and before Adams Morioka) I circled the Aa-Bi section three times and came up empty. So I called one of the event organizers, who called other event organizers, who finally told me that the banners are being rearranged almost daily. The advertising space is donated and, as such, subject to availability. In other words, if a paying customer needs to hang a banner, the trees get shuffled elsewhere.
Fair enough. So I started walking the entire grid. It's something like 45 blocks. Which took me about four and a half hours, one hot dog, and two bags of delicious NUTS 4 NUTS almonds to cover. With every rounded corner I thought "This is it. It'll be on this block." Alas, I saw pretty much every banner on the list, but not my little tree.
So I'm offering a reward: The first person who'll send me a photo of my banner gets a signed paperback copy of my book All Access. After that, anybody who sends me an original photo of the banner along with their address gets a signed copy of the original tree poster. I'd really love to have this documented for my website. Please help!
For now, good night! Have a great weekend and please remember, even though I can't see the tree for the forest 344 LOVES YOU