DETOUR: 344 IN THE SPORTS SECTION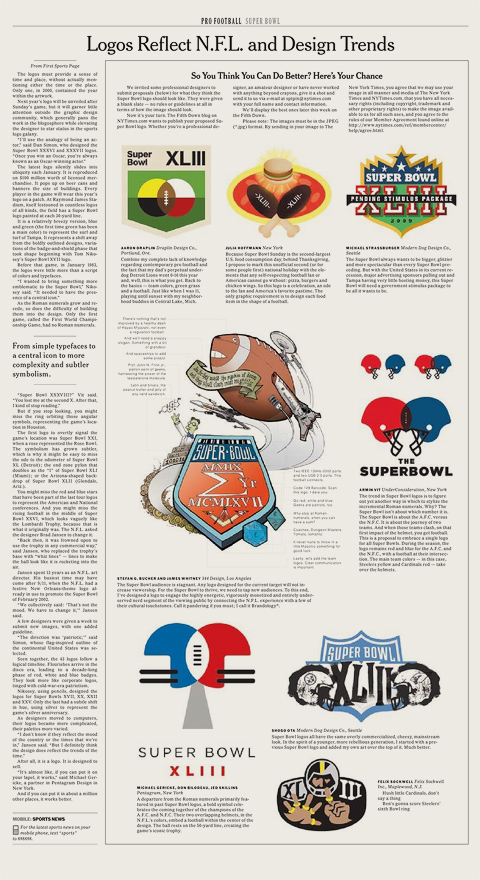 Good morning. So, today is a bit strange, because not only do I have work in the print edition of the New York Times for the first time ever, but it's in the Sports section. Which, if you know my history with sports,  is just so very unlikely. But there it is. Jason Stallman at the Times very kindly invited me (based on the even kinder suggestion of Armin Vit) to contribute an alternative logo for the upcoming Super Bowl XLIII.
As you can see, the Times gathered a number of designers to do logos: Michael Strassburger and Shoga Ota of Modern Dog; Michael Gericke, Don Bilodeau and Jed Skillins of Pentagram; Felix Sockwell, Aaron Draplin, Julia Hoffmann, and Mr. Vit himself.
The point was to update the look of the Super Bowl logo, because as Steven Heller points out in the accompanying article "I'll go out on a limb and say all the logos starting with XVII are based on beer labels." So true. And yet, instead of merely updating the look I felt that a whole new approach was called for.
Indeed, I made the following statement for the record:
The Super Bowl audience is stagnant. Any logo designed for the current
target will not increase viewership. For the Super Bowl to thrive we
need to tap new audiences. To this end I've designed a logo to engage
the highly energetic, vigorously monetized and entirely underserved
nerd segment of the viewing public by connecting the N.F.L. experience
with a few of their cultural touchstones. Call it pandering if you
must, I call it Brandology®.
Now, to fully understand the obvious glory of my approach, I strongly encourage you to look at the annotated version of the logo by clicking here.
A big Thank You must go to Mr. James Whitney who helped me math-ify the number 43. I picked his most straightforward approach solely because the formula fit best with the design. But I'd be remiss if I kept his more elaborate work from you. This will give you an idea:
You can download a PDF of his annotated ideas at this link.
If you haven't yet delved into Fibonacci primes today, here's your chance! (His notes will show you why I'm such a fan of Jim's. I just wish I had had him as a math teacher in high school.)
And there you have it. A little extracurricular activity in the world of sports marketing. I hope you'll enjoy it. Oh, and I don't think I have to remind you that 344 LOVES YOU