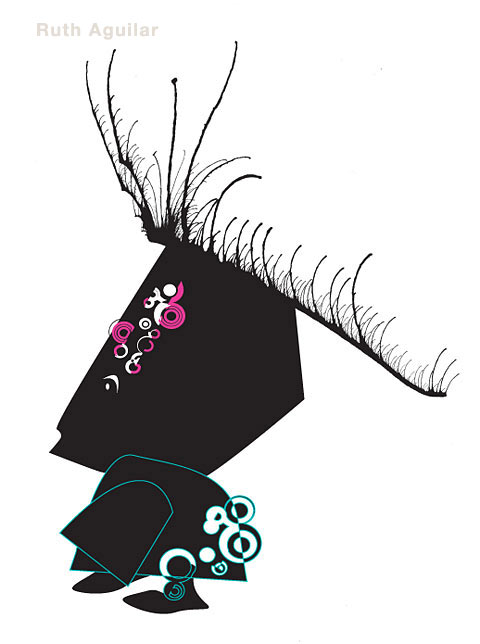 Good morning. Did you miss me? I'm back from the East Coast and I'm finally caught up enough with my work that I can post for you once again. (Please forgive the two week absence.)
Let's catch up! A great many of you sent excellent, excellent Open Source Monsters. Instead of posting them as a separate gallery, I thought I'd put them front and center right here on the blog. I hope you'll enjoy them as much as I did:
How cool are you guys? These are brilliant monsters. I can't wait to see what you do with the third ink blot.
Here's my own take on Number 2:
Over the last few weeks I've been busy watching Eric at FWIS work wonders on the 344 online store. We're almost ready to go live. Right now, it's a sales permit from the State of California that's holding us up, but I'm hoping that I'll have everything lined up for you shortly. Here's a little teaser screen shot of the home page:
In other news, I had a great time judging the BoNE Show for AIGA Boston last weekend. I saw lots of beautiful work and between me and Luba Lukova and Kevin Krüger from SamataMason we pruned the field down to a really spiffy show that should be fun to behold. If you're in the Boston area, please stay tuned to the AIGA Boston site for updates. The BoNE Show Monster went—by way of a raffle—to Adam Larson of Lemon Magazine.
Here's a photo from the Meet The Judges event, featuring Kevin, Andrea (from AIGA Boston), yours truly, Luba, and Christi (also from AIGA Boston). From all those smiles you wouldn't know what swift and savage judges we'd turn out to be.
Note also that this event took place in the visitor's lounge of a nuclear reactor. All our dosimeters were bright yellow by the end of the night, which means we were glowing, but not too much. Except for poor Angela. As you can tell from her orange tag, she got an extra dose of radiation, because she had to set up the event before we got there. That's what I call selfless dedication to the cause.
That's pretty much the news for the week. I'm working on the next ink & circumstance column for STEP. I'm slated to illustrate a section header for an upcoming issue of New York Magazine, as well as the fall term catalogue for UCLA Extension. I should have lots of fun stuff to show you in the next couple of days.
For now, it's time to go to sleep. (I'm trying to be a bit less of a night owl. We'll see how that goes.)
I hope that you're headed for a brilliant weekend
and that you'll enjoy two more bonus weeks of Daylight Savings Time
(Offer valid in the United States only.)
Please don't let the long silence fool you:
344 STILL LOVES YOU