THE MONSTERS INVADE SAN DIEGO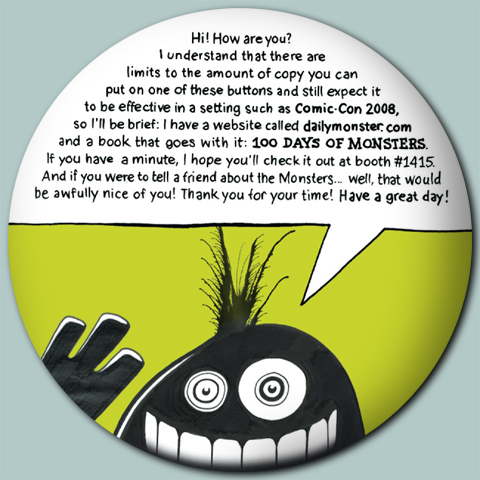 Good afternoon. How are you? I hope the week is treating you well so far. I just wanted to give you a quick update on the Monsters at Comic-Con.
There's lots going on: I'll be signing copies of the Monster Book at the Impact Books booth (#1415) on Friday the 25th from 11:30 A.M. until 1 P.M., and on Saturday from 12:30 P.M. to 2 P.M. I'll have the Big Guy with me, so we can all get our photo taken together.
If you don't want to brave Comic-Con itself, I'm doing another signing at Subtext in downtown San Diego on Thursday night from 6 P.M. to 8 P.M. The address is
680 West Beech Street, No.1
San Diego, California 92101
619 876 0664
I'm told that one mustn't show up at Comic-Con without swag. To that end I've just put in a last minute emergency order for buttons. This one will be 3″ in diameter. Please take a look. I hope you'll like it.
Lastly, I finally put up a dedicated Monster page on Facebook.
If you'd like to declare publicly that you're a fan of the Monsters,
this is the link for you.
For now, I hope that you're enjoying your day,
and that good things are coming your way.
Please keep in mind that 344 LOVES YOU