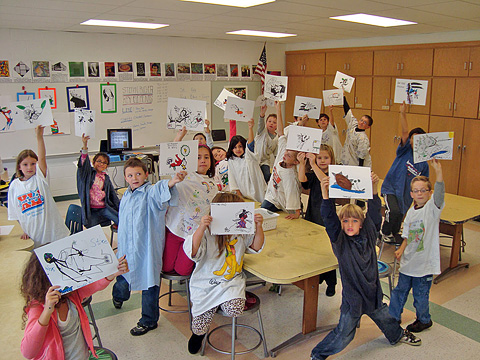 Good evening. How are you? I hope that fall is treating you well where you are.

If you happen to be in the Greater L.A. are, please come see me at Table 6 at the CTN Animation Expo in Burbank. I'll have the Big Guy with me, and lots of books, posters, cards, and buttons.

Now, to business! This is another desperately overdue post.Back in February (in FEBRUARY, for crying out loud!) I received an e-mail from one Ken Maier. Mr. Maier is an art teacher on Long Island, New York, who created lessons for his class based on the Daily Monsters. He did a few trial runs to work out the kinks, but now has it down to a science and he tells me that the kids love it.

Let me turn it over to Ken:
I have designed the lesson for 3rd graders but have completed it with 4th graders and also students with autism ages ranging from 11-14, all with great success. I start by talking to the students about "mistakes," and how as artist we can turn our mistakes into art. I talk about you, the book, and your process. Aside from using canned air, we do it the same way that you do. (We use straws and blow, making sure no one passes out from blowing too hard!)

I make a point of showing my students how you spin the ink splat around to find where the monster is on the page before you start drawing. The amount of excitement and creativity that comes out once they start blowing the ink around the page is amazing! I'm surprised every time I do this. Many students give their monsters names, pets, environments, and more.

Most of all it's great to be able to talk with my students about an artist that is still alive! Most of the time the artists we discuss are ancient, and its hard for my students to relate. I've also let them know that I would be showing their monsters to you.  Here are the photographs.  
Isn't that the best? I hope that Mr. Maier's class at Minnesauke Elementary School will forgive me for being so completely late on posting their excellent drawings. Thank you for making such brilliant monsters, and taking the time to send me pictures. I apologize that it's taken me so long to give them the spotlight.
Let me give the proper credit:
3rd Grade, Minnesauke Elementary School
Three Village Central School District, Setauket, NY
Teacher: Phyllis Pastore (Mr. Maier was visiting)
My thanks again to Mr. Maier for making the Daily Monsters into an excellent class! I'm glad everybody obviously had a great time blowing ink and making creatures! Even with all kinds of delay, there can be absolutely no doubt at all that 344 LOVES YOU