DOWNLOAD YOUR FREE MONSTER MASK NOW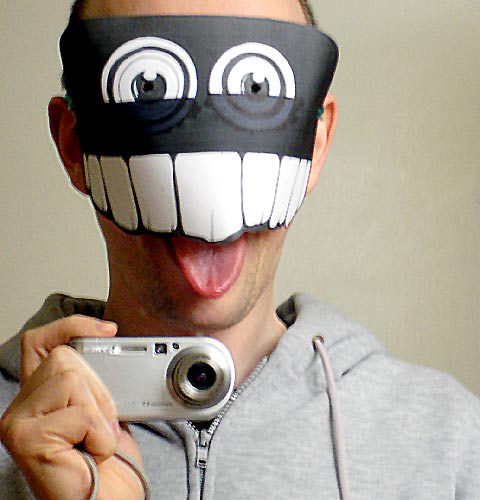 Good morning again. While I'm tweaking the Halloween Monster, I thought I'd upload a little bonus gift for you. If you're like me, you may not have planned a Halloween costume for yourself. You may be considering a quiet night at home, just so you don't have to reveal yourself as shamefully undisguised. Well, let me save you from this grim and lonely fate with the exclusive Daily Monster Halloween Mask. (A big Thank You for the great idea to Stacy Rausch and Sam Berkes!)
Allow me to demonstrate:
(This is not a blurry photo, by the way. This is what I actually look like at 6.30am.)
The mask is formatted to print on a standard 8.5×11 sheet on any inkjet or laser printer. Minimal instructions are included on the sheet, but it's all pretty self-explanatory. You can download the PDF by clicking on this link or on the image below.
Now, if you're so inclined, I'd love it if you'd take a photo of yourself donning your monster mask, and send it to me. I'll post it right here on the blog. But you certainly don't have to. All you have to do to make me happy is have fun! Why? Because 344 LOVES YOU