HOLD'EM OR FOLD'EM: NEW MONSTERS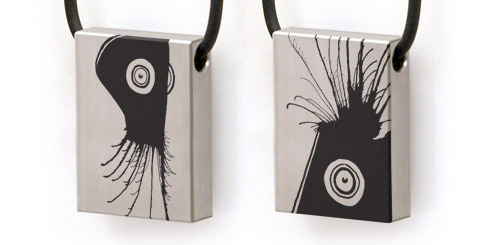 Good evening. How are you? I hope you had a good week. I apologize for not posting more this week. When the L.A. Weekly cover hit the streets things suddenly got extra busy. In fact, I've been making more Monsters than ever, but I can't show them all to you just yet. Stay tuned for more Daily Monsters here on the site in the very near future. For now, I hope you'll enjoy two new group show projects.
The first is Metal For Monsters, a charity jewelry project started by graphic designer Eric Jean-Louis and industrial designer Vivian Cheng of Blend Creations. They invited nine artists to design laser-engraved stainless steel Monster pendants to benefit Unicef. Happily, two of the Monsters agreed to help:
Each pendant is limited to 100 pieces, signed and numbered on the back, and sells for $81. $16 of that goes straight to Unicef. Please check it out.
Back in the Old Country, German publisher Zeixs and Christian Schaarschmidt's design firm Illunatic invited me to contribute the Three of Hearts to a designer deck of cards called "52 Aces." Who am I to say No? Here is my contribution:
Much more is to come, but right now I must get back to it. I've said it before, and I'll probably say it again: This ink ain't gonna blow itself. I hope you'll have a lovely Friday, and a great weekend. For now, why not put on some good music and reflect on the fact that 344 LOVES YOU