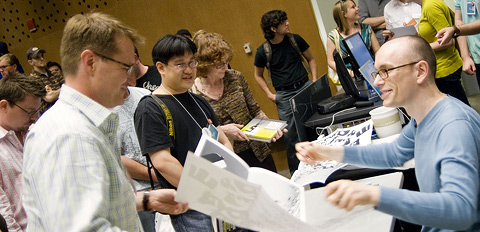 Good morning. How are you? I hope you had a lovely extended Memorial Day weekend. To ease your return to work for the short week I thought I'd show you the Monsters I made on the plane last week.  When I make Monsters there are occasionally ink blots that don't reveal their Monster to me right away. I save those, and when I fly I sometimes take a few, so I can draw on the plane. (The TSA frowns on compressed air cans in your carry-on luggage, so fresh ink isn't on the menu.)
Last week I flew to Columbus, Ohio to give a talk for the good people of the CSCA. It was kind of a big night for me, because it marked the end of the 344 Regional Domination Tour that started at the Y Conference in San Diego back in April of 2005 and has taken me to Washington DC, Chicago, Austin, Boston, a vacation resort outside Brainerd, DeKalb, back to San Diego, Portland, Cincinnati, Las Vegas, Louisville, Tucson, Phoenix, San Diego again, a ranch in Texas, New York, Denver, Orcas Island, Minneapolis, Seward, Jacksonville, Boston again, Orlando, Baltimore, Pittsburgh, DC again, Oklahoma City, and now finally Columbus, Ohio. Add to that a handful of events here in Los Angeles. It's been an absolute privilege to meet so many brilliant people at these talks, and a lot of fun, too. But I've decided to take a little break from the presenting, so I can make some new things to show you by the time I go out on the road again. That said, I'll be speaking at the AIGA National Conference in Memphis in October. It'll be short, that one, but it'll be good.
In the meantime, Columbus was excellent, and I had a great time. Jeff Seslar took some great photos of the evening (including the one above) and we filmed the whole thing, too, so I'll put up a few clips sometime soon. If you're ever in Columbus and you can swing it, I highly recommend you stay at the German Village Guesthouse. I'm not in the habit of giving plugs to the hotels I stay at, but this is a designer-owned, designer-run operation and I just went nuts for their garden.
But I'm getting off topic. Sorry. Planes. Monsters. I made six of them on this trip. This first one came through on flight AA 642 from Dallas to Columbus:
The second one started on that same flight, but had to wait until flight AA162 from Columbus to Dallas two days later to get some texture on its feet and some bark on its branch:
Monster No.3 came out on that same flight and was directly inspired by a young passenger two rows behind me, and another one in front of me and to the left. He's now also available as a Monster Onesie on Zazzle.


Flight AA 1677 from Dallas to Burbank started with this slender creature looking over the horizon:
Shortly thereafter, this strange and startled sea-monster surfaced:
Lastly, just minutes before the cabin crew made me close up shop, this friendly little bird came to rest on my tray table:
So there you go: Four productive flight segments, don't you think? I was happy the Monsters kept me company, and I hope you like our new friends here, too. (If you like, you can send them to your friends on Facebook using the SEND A MONSTER app.) Also, I don't think I have to remind you that 344 LOVES YOU