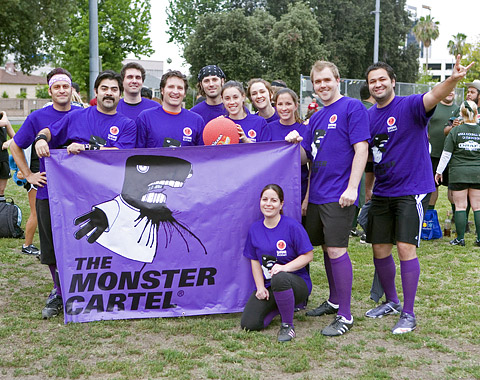 Good evening. So… uhm… did I mention that the Monsters are now supporting a team in the North Hollywood Kickball League? Well, it's true! They're called the Monster Cartel® and I don't have to understand the ins and outs of kickball to know that they're badass. Check it out:
If you're in the L.A. area and want to support them, here is the 411,
courtesy of team member and art instigator David Osorio:
All games are played at the
Valley Plaza Rec Center
12240 Archwood St., North Hollywood, 91606
on Tuesday nights.
Game 3 vs. NoHo Hoodlums — 7:30pm (June 23rd)
Game 4 vs. Where My Pitches At? — 8:30pm (June 30th)
Game 5 vs. Greg Priestley Avengers — 7:30pm (July 7th)
Game 6 vs. I'd Hit That — 8:30pm (July 14th)
Game 7 vs. Drunk Again and Looking to Score — 7:30pm (July 21st)
Game 8 vs. Wet Hot American Kickball — 7:30pm (July 28th)
Playoffs TBD —
Rock'em, sock'em, Monsters!
You know that 344 LOVES YOU