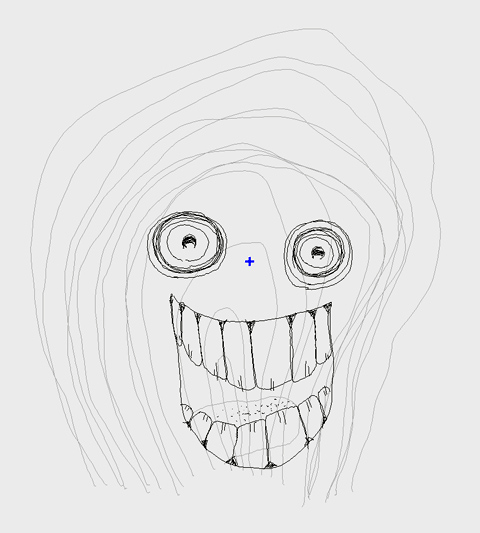 Good evening. At my friend Jed's suggestion, I'm fiddling about with the just released Beta of Rhonda, a new 3D drawing program. Right now the only tool is the pen — one color, one line weight. You can't select any of the lines you've drawn and move them individually. You can't distort, you can't erase. All you can do is command Z. And even that is alt-Z for some reason. When you start the application it takes over your entire screen. There is no Finder menu at the top of the screen. There is no dock. If you want to access any of your other stuff, you have to quit the app. It's all very odd.
But then it's also weirdly fun.
Kind of like finger-painting in 3D.
Check out my first three-dimensional Daily Monster:
I'm not saying I'll make one of these every day, but I'll keep playing, and may post a few of these in the coming weeks. If anybody else is playing with the beta, let me know. Maybe we can exchange notes.
Also, if you know a good Mac software for recording what's on your screen, then I don't have to aim my digital camera at the screen like a caveman with a digital camera.
For now, I hope you'll have a good weekend. If you're at the Topanga Film Festival tomorrow, come say Hello. And as always, please remember
that 344 LOVES YOU