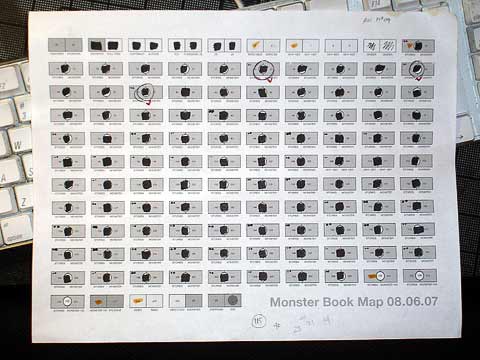 Good morning. First off, thanks to all of you who posted stories for yesterday's Weekly Monster. You guys are so brilliant! It's always a pleasure to see what you come up with!
Below is tonight's book map. It's amazing how much the pace has slowed down for these final spreads. There's no more grid to follow on these pages. Everything's made from scratch and it takes a long time to do it right. Tonight I tackled the copyright page, wrote a new bio and took a spiffy new author photo in my trusty bathroom mirror.
I've got to tell you how much I love my apartment. I've been here for over 13 years and by now I know how to use every corner for some art production purpose. I use every part of the buffalo: The bathroom is my portrait studio, the alcove by the front door is a great diffuser for product shots, the kitchen is one big shipping center now, with way more Jiffy Paks than dishes… The place has a special magic. I'm not sure what it is. Maybe they built this joint on the ruins of an old artists' colony. Whatever it is, I'm not sure that I could do my work anywhere else. I'm certainly not eager to try.
I definitely know that I couldn't do my work without your excellent energy,
and that's the biggest reason why 344 LOVES YOU