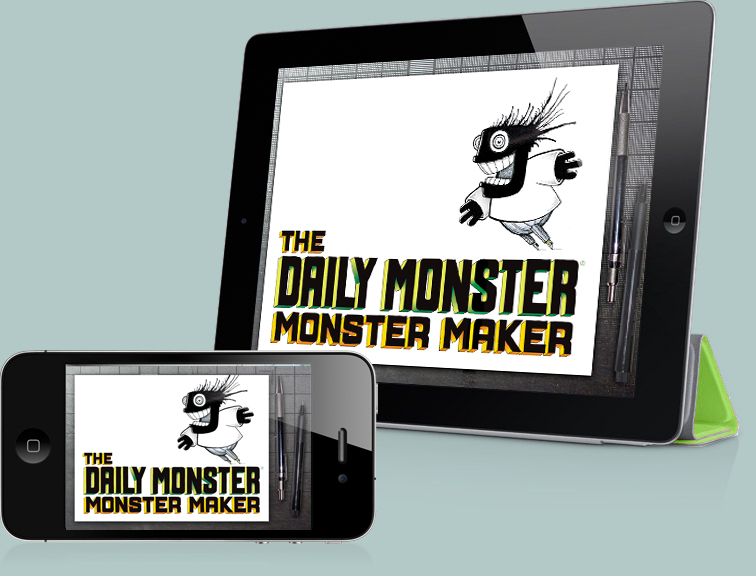 Good morning! How are you? Hey, have I got a cool new toy for you today! Check out the brand new Daily Monster® MONSTER MAKER app for the iPhone, iPad, and iPod Touch! Make your own Daily Monsters®, and send them to your friends!
Blow the ink with your finger. Add eyes and mouths and arms and pants from the over 150 elements in the PARTS palette–all of which I lovingly made by hand exclusively for this app. Or you can draw your own! 
Pop up a speech bubble and make your monster say something profound.
You can even pose for a photo with your creature and post it to Facebook or Twitter right from inside the app!
99 cents well spent, don't you think? If you have an Apple gizmo, I hope you'll give it a try and post a review!
I have to give a big, huge shout-out to Dominik Wei-Fieg of Ars Subtilior who spent ludicrous amounts of time building and fine-tuning this beauty. On top of that he patiently addressed exactly 222 e-mails from me in a five month period. I couldn't have done this without him. (At all! I know this. I tried.) Check out his other apps.
A great big Thank You also to Bruce, Marian, and Ze for their expert beta-testing and their great ideas, which made the whole thing immeasurably better. And lastly, many thanks to Linda for the beautiful demo photos!
OK! Please… get the app! Let a million monsters bloom! I hope you have a ball!
Even in the multi-touch display world 344 LOVES YOU